-- John Hogue
John Hogue grasps the chaotic threads of time coming in 2011, and chronicles a year of destiny, when the old and familiar fabric of a now dying age ensnares a future that wants to break free. In this new e-Book Hogue draws a new future that favors the bold. Those who turn their attention away from the past can weave a new Lifeline to the Future, and according to Hogue, 2011 is the year individuals can begin redesigning the human dream and knit together an undiscovered new destiny.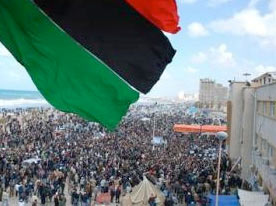 Are you ready? Read this book and find out.
Windows of Opportunity in 2011:
In 2011, systemic flaws become even more obvious in government. There is a counterfeiting of federal reserves in America and Europe. The time has come to fix these and other financial defects of Wall Street and Main Street, but if the world's economists and politicians remain stubbornly unreformed, time runs out!
Watch! The systemic becomes sustain-ic failures in the next global economic crisis.
Above: shot from around 21 February. Celebration of freedom on beach in Benghazi under the tricolor of pre-Gaddafi regime. Source: Reuters.
And yet. . . There are fewer wars than in centuries. Shared economic success is putting a stake in the heart of extreme terrorism. Expanding wealth in the developing nations creates a climate of hope and creativity in formerly war-torn continents. And a new era of middle class dynamism now stretches across the world thanks to an emerging, exciting, interconnected global society never before seen. Actions in 2011 launch and define the course of a new decade.
Yet be warned. John Hogue foresees this window of opportunity closing.
A Few Predictions for 2011:
The date of the next economic crisis is foreseen in the book Predictions for 2011. Signs of how it can be prevented are also given.
The gigantic American military industrial complex seeks a reason-for-being in new war markets.
Peace in Palestine is coming sooner than anyone can imagine. So is war with Iran as consequence. The years for conflict are given.
President Obama, like his favorite, President Abraham Lincoln, shares a critical need to see his fortunes change in "year three" of his presidency. The year 2011 is Barack Obama's 1863 - will he manage?
A new Global Aristocracy makes its move to take over the US government of the corporate, buy the corporate, for the corporate. Will there be push back? Hogue introduces the idea of a a second American Revolution and when it's coming.
2011 is the year of military crises caused by failed states, such as Pakistan and North Korea.
"Year Two" of Nature's World War on Humanity
There's a war on. A war against stupid.
"In 2011," explains Hogue, "we enter year two of World War Three, Mother Nature's war on us. This isn't some pagan voodoo threat. The natural world is ill. It's fighting back madder than ever in 2011. Her fever chills will bury us in blizzards this winter, her fevers will then suddenly rise hotter this coming spring and summer, her rages will redouble from what was seen in 2010."
See how your corner of the world will be affected.
Use Predictions for 2011 to set yourself free from the unraveling chaos of a dying age.
1. This is the Chinese Year of the Rabbit. See how far the rabbit hole goes. . .From Beijing, all the way down into the pockets of politicians in Washington to influence and steal US elections.
2. As Hogue predicted for 2010, the Hurricane Season was quiet in the Gulf of Mexico. The signs are changing in 2011. Prepare for the stampede of the worst hurricane season in the Gulf and along the Atlantic coast in five years. Find out the date when the next great Haitian disaster comes in Predictions for 2011.
3. The planet Neptune (God of the Seas) returns to its home sign of Pisces in 2011. Prepare yourself for a year of great worldwide ocean storms, tempests and monsoons never before experienced in living memory. See if your town or city is in the cross hairs of superhurricanes.
4. The military junta of Myanmar (Burma) seeks to build an atomic bomb. North Korea will threaten to drop an atomic bomb in 2011.
5. Despite it's breathtaking growth, the People's Republic of China is a totalitarian society. When China eclipses American influence in the coming decade, it will push a totalitarian agenda upon the world at large. It expects "you" to bend and bow to "its" authority.
If you prefer to pay by US check or US Bank Draft, you can send a check for $12.50
payable to John Hogue to:

John Hogue
P.O. Box 666
Langley, WA 98260

Be sure to include your email address on the memo line, so we can download this book to you.

Purchase the new e-Book Predictions for 2011 :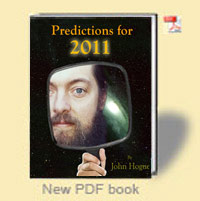 This item is a book download in PDF format. Best viewed with Adobe Reader. That means it is not a book made of paper. It is digital.
Click the button below to go to the HogueProphecy Store to purchase. After completing your payment you will be shown the link to download your book in your account. You can return to download it for up to one week.
$12.50



36,338 words, 137 pages, 39 color photos, graphics.
Published by HogueProphecy Publishing
© 21 December 2010, John Hogue, All rights reserved


PDF digital book for download.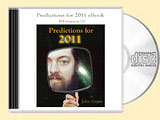 OR- Purchase this e-Book
on CD:
NEW! Also available on CD. Great for a gift idea. The same PDF book readable on CD. Just insert CD into your computer, and open and read the book with the PDF reader of choice (all computers come with PDF viewers now, we recommend Acrobat Reader).